Can physicians always tell when a patient has less than 6 months to live? And if they misjudge, is that fraud?
A registered nurse and three nonclinicians filed a federal False Claims Act (FCA) lawsuit against Care Alternatives, a for-profit hospice in Cranford, New Jersey, claiming the hospice illegally admitted at least 16 patients who were not in their last 6 months of life and so did not qualify for Medicare hospice coverage.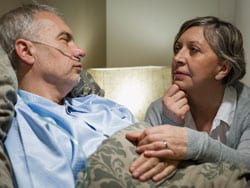 The whistleblowers' medical expert, Robert Jayes, MD, testified that the patients' medical records did not back up the hospice medical director's prognosis of imminent death and thus did not support a certification of need for hospice care. The hospice's medical expert disagreed, testifying that a physician could reasonably have determined that the life expectancy of each of those patients was 6 months or less. The whistleblowers were all former staffers.
A federal district judge held that a "mere difference of opinion between physicians, without more, is not enough" to show that the hospice filed false claims to Medicare under the law. But in March, the 3rd US Circuit Court of Appeals reversed that ruling, finding that "a difference of medical opinion is enough evidence to create a triable dispute of fact regarding FCA falsity."
Attorneys for Care Alternatives, including famed Supreme Court advocate Paul Clement, asked the justices in September to resolve the question of "whether a physician's honestly held clinical judgment regarding hospice certification can be 'false' under the False Claims Act based solely on a reasonable difference of opinion among physicians."
The justices may take the case because there is direct conflict between the circuits on this question. In September 2019, an 11th Circuit panel held that a hospice medical director's finding of terminal illness cannot be deemed false for the purposes of the FCA "when there is only a reasonable disagreement between medical experts as to the accuracy of that conclusion, with no other evidence to prove the falsity of the assessment."
So what does it take for whistleblowers and the government to prove a physician's clinical determination that a patient has 6 months or less to live was false? Conversely, what does it take for hospices and their physicians to make their certifications legally bulletproof?
Such clinical determinations are required to certify that Medicare patients are eligible for hospice benefits, and such patients must be recertified at regular intervals. But if a second physician testifies that the hospice medical director was wrong, is that disagreement enough to defeat a motion for summary judgment and send a FCA fraud lawsuit to a jury?
One key factor is that there is a degree of subjectivity regarding criteria for hospice care. The Centers for Medicare & Medicaid Services (CMS) has not created clinical benchmarks that must be satisfied to certify a patient as terminally ill   certify a patient as terminally ill. Medicaid administrative contractors offer hospices written guidance on how to determine whether specific medical conditions carry a 6-month prognosis. But that determination still requires a
…