These are the UK coronavirus stories you need to know about today.
Tougher Restrictions Announced for Scotland
Pubs and restaurants in central Scotland have been told to close for 16 days as the Scottish Government tries to contain growing numbers of COVID-19 cases.
The sharp rise in coronavirus cases in many parts of Scotland has also led to National 5 exams being cancelled in 2021 and replaced with teacher assessments and coursework.
New rules for the hospitality industry apply to licenced premises in the central belt, including Greater Glasgow and Clyde, Lanarkshire, Ayrshire and Arran, Lothian, and Forth Valley.
In other areas of Scotland, licenced premises will be able to open but will only be able to serve alcohol outdoors up to the current curfew time of 10pm.
In addition, snooker and pool halls, indoor bowling alleys, casinos, and bingo halls will close in central Scotland.
People living in the five central health boards have also been asked not to travel outside their region unless they need to.
The new restrictions will come into force at 6pm this Friday and remain in place until 25 October.
In a statement to the Scottish Parliament, Nicola Sturgeon, the First Minister, announced an extra £40 million to help businesses affected by the new measures.
Ms Sturgeon said that without the measures "there is a very real risk that the virus will run out of control by the end of this month", but that with them in place "we hope to slow down its spread, and that will help us keep schools and businesses, including hospitality businesses, open over the winter".
It was later announced that staging National 5 exams for teenagers in Scotland next year posed "too big a risk".
Daily Data
In today's daily data another 14,162 UK positive tests were reported and 70 deaths.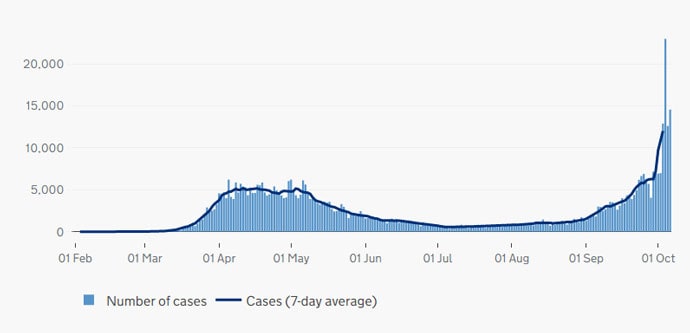 There are 3145 COVID-19 patients in hospital and 410 ventilator beds are in use.
Herd Immunity
Meanwhile, a body of experts have questioned the need for tough lockdown restrictions aimed at curbing the spread of coronavirus.
A group of influential scientists called for a 'herd immunity' approach to the pandemic through a system of "focused protection".
The so-called Great Barrington declaration said lockdown measures were wreaking "devastating effects on short and long-term public health" and should only be applied to the most vulnerable in the community.
It called for a "compassionate approach" to "allow those who are at minimal risk of death to live their lives normally to build up immunity to the virus through natural infection, while better protecting those who are at highest risk".
The authors, including Prof Sunetra Gupta, an epidemiologist at the University of Oxford, said those not in a vulnerable category "should immediately be allowed to resume life as normal" and that "arts, music, sport ,and other cultural activities should resume".
By Wednesday evening the declaration had been endorsed by 3298 medical and public health scientists, and 5049 medical practitioners.
The declaration resulted from
…