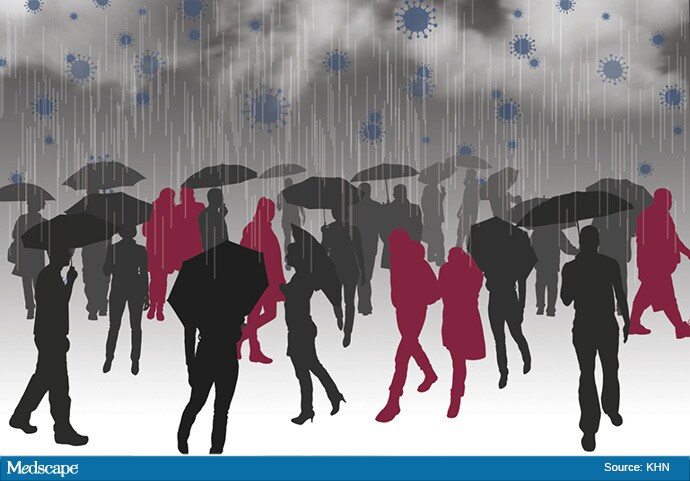 The Affordable Care Act, facing its first test during a deep recession, is providing a refuge for some — but by no means all — people who have lost health coverage as the economy has been battered by the coronavirus pandemic.
New studies, from both federal and private research groups, generally indicate that when the country marked precipitous job losses from March to May — with more than 25 million people forced out of work — the loss of health insurance was less dramatic.
That's partly because large numbers of mostly low-income workers who lost employment during the crisis were in jobs that already did not provide health insurance. It helped that many employers chose to leave furloughed and temporarily laid-off workers on the company insurance plan.
And others who lost health benefits along with their job immediately sought alternatives, such as coverage through a spouse's or parent's job, Medicaid or plans offered on the state-based ACA marketplaces.
From June to September, however, things weren't as rosy. Even as the unemployment rate declined from 14.7% in April to 8.4% in August, many temporary job losses became permanent, some people who found a new job didn't get one that came with health insurance, and others just couldn't afford coverage.
The upshot, studies indicate, is that even with the new options and expanded safety net created by the ACA, by the end of summer a record number of people were poised to become newly uninsured.
What's more, those losses could deepen in the months ahead, and into 2021, if the economy doesn't improve and Congress offers no further assistance, health policy experts and insurers say.
"It's a very fluid situation," said Sara Collins, vice president for health care coverage and access at the Commonwealth Fund, a New York-based health research group. "The ACA provides an important cushion, but we don't know how much of one yet, since this is first real test of the law as a safety net in a serious recession."
Collins also noted that accurately tracking health insurance coverage and shifts is difficult in the best of times; amid an economic meltdown, it becomes even more precarious.
Coverage Was Already on the Decline
Some 20 million people gained coverage between 2010 and 2016 under the ACA's expansion of Medicaid and its insurance marketplaces for people without employer-based coverage. A gradually booming economy after the 2008-2009 recession also helped. The percentage of the population without health insurance declined from about 15% in 2010 to 8.8% in 2016.
But then, even as the economy continued to grow after 2016, coverage began to decline when the Trump administration and some Republican-led states took steps that undermined the law's main aim: to expand coverage.
In 2018, 1.9 million people joined the ranks of the uninsured, and the Census Bureau reported earlier this month that an additional 1 million Americans lost coverage in 2019.
The accelerating decline is helping fuel anxiety over the fate of the ACA in the wake of the death of
…